Vaping E-Cigarettes, Health Hazards, & Lithium Ion Battery Failures1
Introduction
Electronic cigarettes, also known as e-cigarettes or vapes, are marketed as an alternative to traditional tobacco cigarettes. Smokers can allegedly use such products to cut back or quit smoking altogether. The popularity of such products has recently skyrocketed, and the global e-cigarette market is estimated to reach $44.6 billion by 2023 (AP News, 2018). Popular brands of vapes include Juul, Mig Vapor, and blu eCigs. E-cigarettes and vapes purport to simulate the traditional smoking experience without the perceived negative accompaniments. This is achieved by requiring users to bring the device to their mouths and inhaling the "electrically atomized vapor," which produces little to no smoke, and does not smell or create ash (Tolentino, 2018). While e-cigarette sales began a s an alternative for adult smokers, the manufacturers have also attracted adolescents through the selling of fun flavors and viral marketing.
While there are discussions regarding the health aspects of the devices, it is this "electrically atomized vapor" which is of particular interest to Miller Engineering because of the potential hazards created by the lithium ion battery electrical powering source. Infrequent but serious injury causing battery malfunctions have brought the design and use of these batteries in focus. Other Miller Engineering technical papers available on this website further explore the design and accident issues with lithium ion batteries.
Features & Functions
E-cigarettes and vapes come in a variety of shapes and designs, including those that resemble USB sticks and pens. Most vapes have a cartridge, which can be filled or equipped with liquid or liquid pods that can contain nicotine, flavoring, and other chemicals. The user inhales from a mouthpiece and sometimes presses a button on the device to activate a heating element or atomizer within the vape (CDC, 2018). When the liquid is quickly heated (atomized), the resulting vapor can be inh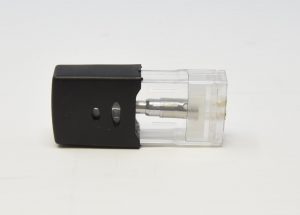 aled by the user. The atomizer is normally powered by a lithium-ion battery that can be recharged. This is sometimes done by the vape itself being plugged into a USB drive.
The liquid itself is sold in flavors and can contain a nicotine content, depending on the specific vape's brand. For example, Juul sells flavor pods that include mint, mango, fruit, cucumber, and crème. These flavors are sold in 5% nicotine pods, with some available in 3% pods (Juul, 2019). Many vapes are also slender and sleek, which allows them to fit in a purse or even pocket. Their portability and discreteness is attractive for users who want to vape in the office, classroom, or other public venues. Such features of e-cigarettes have attracted a younger demographic to "vaping," which is a slang term for the act of smoking electronic cigarettes. Such smoking is reported as "now the most popular form of tobacco use among teenagers in the U.S.," and this has certain groups concerned (Brazier, 2018).
Potential Health Risks
While e-cigarettes and vapes are marketed as a way for adult smokers to cut back or quit, the Center for Disease Control (CDC) and the National Institute on Drug Abuse (NIDA) claim that adolescents who vape are more likely to smoke traditional tobacco cigarettes later in life. The growing number of teens using the products is especially concerning to these organizations due to the negative health effects on young minds associated with nicotine addiction (CDC, 2018; NIDA, 2018).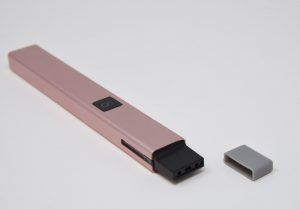 Despite the rapidly growing popularity of vapes, there is a dearth of information pertaining to the potential effects of long-term usage. Even though nicotine in any form or amount has been viewed as addictive, e-cigarettes are often claimed by manufacturers to contain fewer chemicals and toxic materials than traditional cigarettes, thereby presenting the former as a "healthier" alternative (NIDA, 2018). While traditional cigarettes contain about 7,000 different chemicals, e-cigarette liquids have also been found to contain some toxic chemicals, albeit fewer (CDC, 2018).
While it is often debated how beneficial or harmful e-cigarettes actually are, "E-cigarettes have the potential to benefit adult smokers who are not pregnant, if used as a complete substitute for regular cigarettes and other smoked tobacco products" (CDC, 2018). In addition, the CDC advises that such products "are not safe for youth, young adults, pregnant women, or adults who do not currently use tobacco products" (CDC, 2018).
The Future of Vaping
In an attempt to lower the amount of teen smokers, in 2016, the U.S. Food and Drug Administration (FDA) prohibited the sale of e-cigarettes to minors—either in stores or online (FDA, 2016). The FDA has also proposed both stricter guidelines for age verification on e-cigarette manufactures' websites, as well as restrictions on selling flavors that specifically appeal to young people, such as those that are sweet or fruity (Tiku, 2018). While such guidelines and restrictions are still being revised and discussed, it appears that more organizations are starting to take an interest in the e-cigarette market and its potential effects on users. As more people turn to vaping—either to quit smoking or for its own sake—longitudinal studies will provide more reliable knowledge with which to judge its long-term effects on both adolescents and adults.
By September 13, 2019, the FDA and CDC were "working tirelessly to investigate the distressing incidents of severe respiratory illness associated with use of vaping products" (FDA, 2019). These incidents of e-cigarette, or vaping, product use-associated lung injuries (EVALI) were reported with increasing frequency in August and September of that year (CDC, 2020). In response to the illnesses, the Trump administration pushed "for a ban on all flavored e-cigarettes, including mint and menthol flavors" (Berke, 2019). While the cause remained unknown for months, the CDC now reports that "vitamin E acetate is strongly linked to the EVALI outbreak" (CDC, 2020). Vitamin E acetate is an additive used in vaping products and "may interfere with normal lung functioning" when it is inhaled (CDC, 2020). Institutions including the CDC will continue to study EVALI and make further determinations as to its causes.
The CDC's current website reports that "as of February 18, 2020, a total of 2,807 hospitalized EVALI cases or deaths have been reported to CDC from all 50 states, the District of Columbia, and two U.S. territories (Puerto Rico and U.S. Virgin Islands)." Thankfully, however, since September of 2019, the number of EVALI cases has been persistently decreasing. Ensuring vape products are purchased from authorized vendors could function to limit EVALI cases. The CDC also advises that "the best way to avoid potentially harmful effects is to not use THC-containing e-cigarette, or vaping, products" (CDC, 2020).
1 Written by Erinn Promo and James Miller
References
AP News. (2018, Oct 22). $44.6 billion e-cigarette market – Global size, share, development, growth, and demand forecast, 2013-2018 & 2023 – ResearchAndMarkets.com. AP News. Retrieved from https://www.apnews.com/edd5303cfba34fa9b4801ef49929acf5
Berke, J. (2019, Sep 19). The mysterious spate of vape-related deaths and illnesses continues to grow, confounding experts. Here's what officials knew and when. Retrieved from https://www.businessinsider.com/timeline-of-vape-related-illnesses-and-deaths-2019-9
Brazier, Y. (2018, June 25). Are e-cigarettes a safe alternative to smoking? Retrieved from https://www.medicalnewstoday.com/articles/216550.php
Centers for Disease Control and Prevention (CDC). (2020, February 25). Outbreak of lung injury associated with the use of e-cigarette, or vaping, products. Retrieved from https://www.cdc.gov/tobacco/basic_information/e-cigarettes/severe-lung-disease.html
Centers for Disease Control and Prevention (CDC). (2018, November 15). About electronic cigarettes (e-cigarettes). Retrieved from https://www.cdc.gov/tobacco/basic_information/e-cigarettes/about-e-cigarettes.html
Food and Drug Administration (FDA). (2019, Sep 13). Lung illnesses associated with use of vaping products. Retrieved from https://www.fda.gov/news-events/public-health-focus/lung-illnesses-associated-use-vaping-products
Food and Drug Administration (FDA). (2016, June 16). The facts on the FDA's new tobacco rule. https://www.fda.gov/consumers/consumer-updates/facts-fdas-new-tobacco-rule
Juul. (2019). JUULPODS. Retrieved from https://www.juul.com/shop/pods
National Institute on Drug Abuse (NIDA). (2018, June). Electronic cigarettes (e-cigarettes). https://www.drugabuse.gov/publications/drugfacts/electronic-cigarettes-e-cigarettes#ref
Tiku, N. (2018, Nov 15). Juul exhales after dodging full ban on flavored e-cigs. Retrieved from https://www.wired.com/story/juul-dodging-ban-flavored-e-cigs/
Tolentino, J. (2018, May 7.). The promise of vaping and the rise of Juul. The New Yorker. Retrieved from https://www.newyorker.com/magazine/2018/05/14/the-promise-of-vaping-and-the-rise-of-juul